Thanks to Apple's cohesive ecosystem, it is very easy to share movies, videos, or songs from your iPhone, iPad, and Mac to your TV via AirPlay. On the other hand, Microsoft Windows does not have any original features specified in wireless streaming. However, this doesn't mean that you can't stream your content from your Windows PC. In fact, there are some very useful third-party apps that can help you out. Let's check out the best AirPlay alternatives for Windows.
Reflector 3
Reflector 3 is one of the best alternatives to AirPlay for Windows. The software allows you to mirror ANY phone, tablet, and even PC to the TV screen –pretty much like AirPlay. Therefore, whether you want to stream songs from your phones to your Windows computer or mirror movies from your PC to your TV, this app will handle everything on your bucket list. 
Reflector 3 has an impressive user-interface. You can easily master this app without having to go through a lengthy learning process. The best part about Reflector 3 is that it allows you to connect with multiple devices of any type at the same time and mirror their screens simultaneously. The software will automatically adjust the layout so all screens are displayed proportionately. This ability can come in really handy when you need to do comparison, side-by-side viewing ,or play top-notch multiplayer games. In addition, Reflector also features a screen recording and a live streaming feature that let you share your screen activity on Social media or YouTube.
This software has a free-trial that lasts 7 days. The full version cost $17.99. Check it out HERE
AirParrot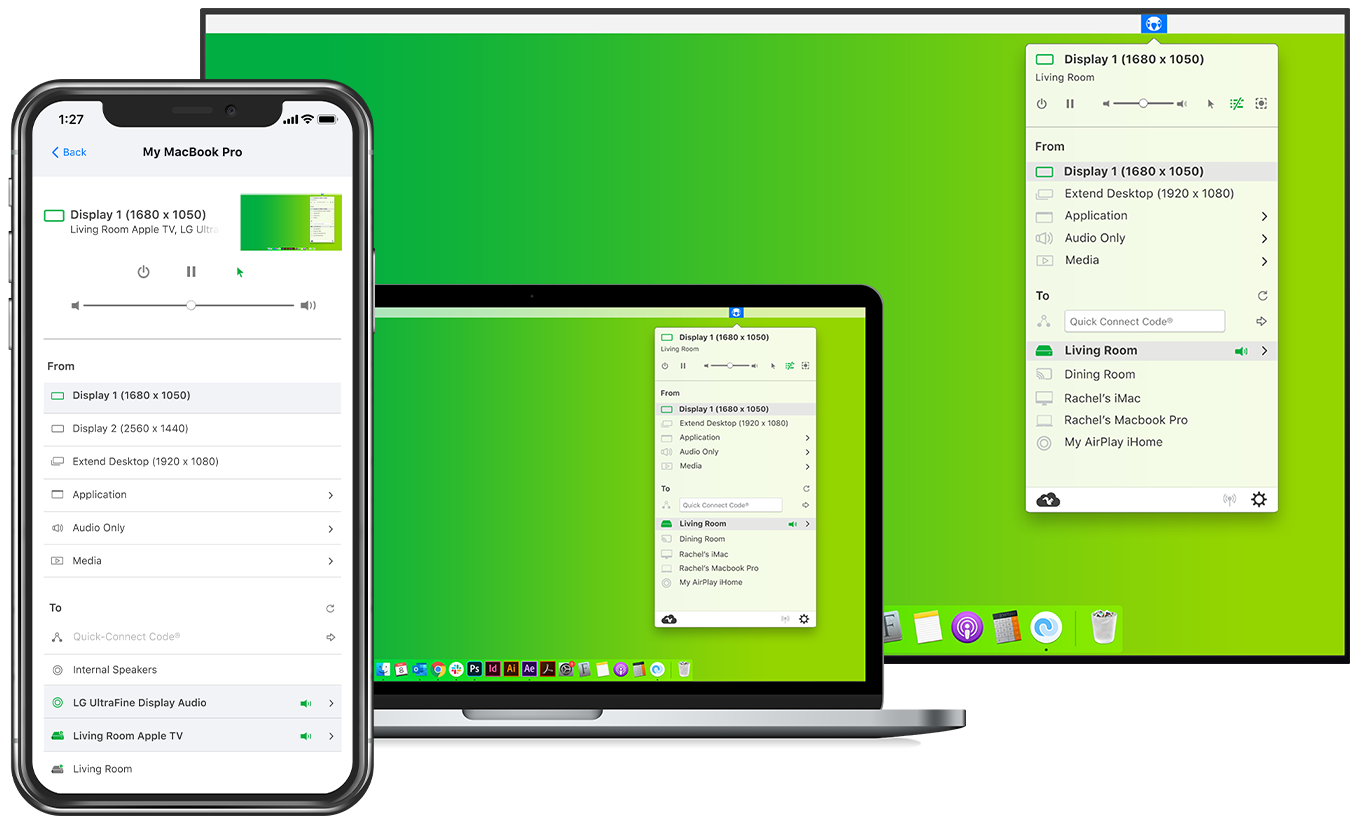 AirParrot is made by the amazing team behind Reflector 3. And this app is equally impressive. This app allows you to share your content to a vast range of media receivers. Thanks to its Quick Connect technology, you can conveniently beam your content to a device on a local network using an IP address or a Quick Connect code.
But the biggest highlight of AirParrot is that it can stream your media files in 5.1 surround sound without any loss in quality, something AirPlay is not able to. On top of that, the iOS remote app will help you remotely control what's being sent from your computer to your TV without touching your keyboard or mouse.
AirParrot has a 7-day Free trial while the premium version comes at $12.99
Airflow
If you want an app that lets you mirror your video in the highest quality or offers similar features as AirPlay, Airflow is your number one option. This app doesn't have to transcode your videos to show text subtitles, which is different from other similar apps. Therefore, this results in much sharper and cleaner video quality. But the most important thing is that your CPU doesn't have to deal with a heavy load of work. Airflow also supports 5.1 audio (surround sound) as well as DVD and Bluray subtitles. You can also organize your videos into a playlist so they will stay in the right order and easier to operate.
You can get this app for Free with limited features or buy the premium version for 18.99$. Check it out HERE
There you go, now you have our best AirPlay alternatives for Windows. If you have any question, let us know in the comments!