As new COVID cases are reporting high numbers in the UK, nationwide lockdown measures have come into effect since Thursday, November 5th. The lockdown may last for quite a while and UK people are only allowed to go outside for food, medical reasons, and essential shopping. In other words, working from home is now the only way to keep you safe from the virus. In this article, we will provide you with some home office ideas to make your home-working experience much better and more comfortable, thus improving your productivity. Let's check them out.
Make Use Of Other Rooms
If you are having a small-sized home, having a whole space designed for working is somewhat impossible to do. Instead, you can still squeeze a small desk for your laptop and other office essentials into your bedroom or living room. A lot of working-from-home people are using a "soft office" – which is lying on their sofa or bed to work. You may think this grants a more comfortable working experience. However, you will find an increase in productivity if you put in a lot of effort to create a designated work space rather than relying on a "soft office".
In addition, doing this will create a multi-purpose room. When you aren't working from home, the space can double up as a sideboard, a make-up table, or even a dining area.
Choose A Painting Color That Suits You
Research has shown that different colors will affect our moods differently. So if you are making a home office, a suitable color will boost your productivity while keeping you away from stress. 
You may be surprised that Orange is proved to be the best productivity booster color. Of course, it doesn't mean that you have to paint everything in your home office. Just add a splash of orange to your work space and it will give you some inspiration. You can also try a combination of green, blue or greys. These colors can create a calm feeling, much more conducive to stress-free working.
Try To Get As Much Natural Light As Possible
Not everyone can have access to stunning and shining home working spots. However, you can always set up your home office in a spot that can make use of natural light. Natural light not only minimizes the risk of straining your eyes but also boosts your energy in some ways.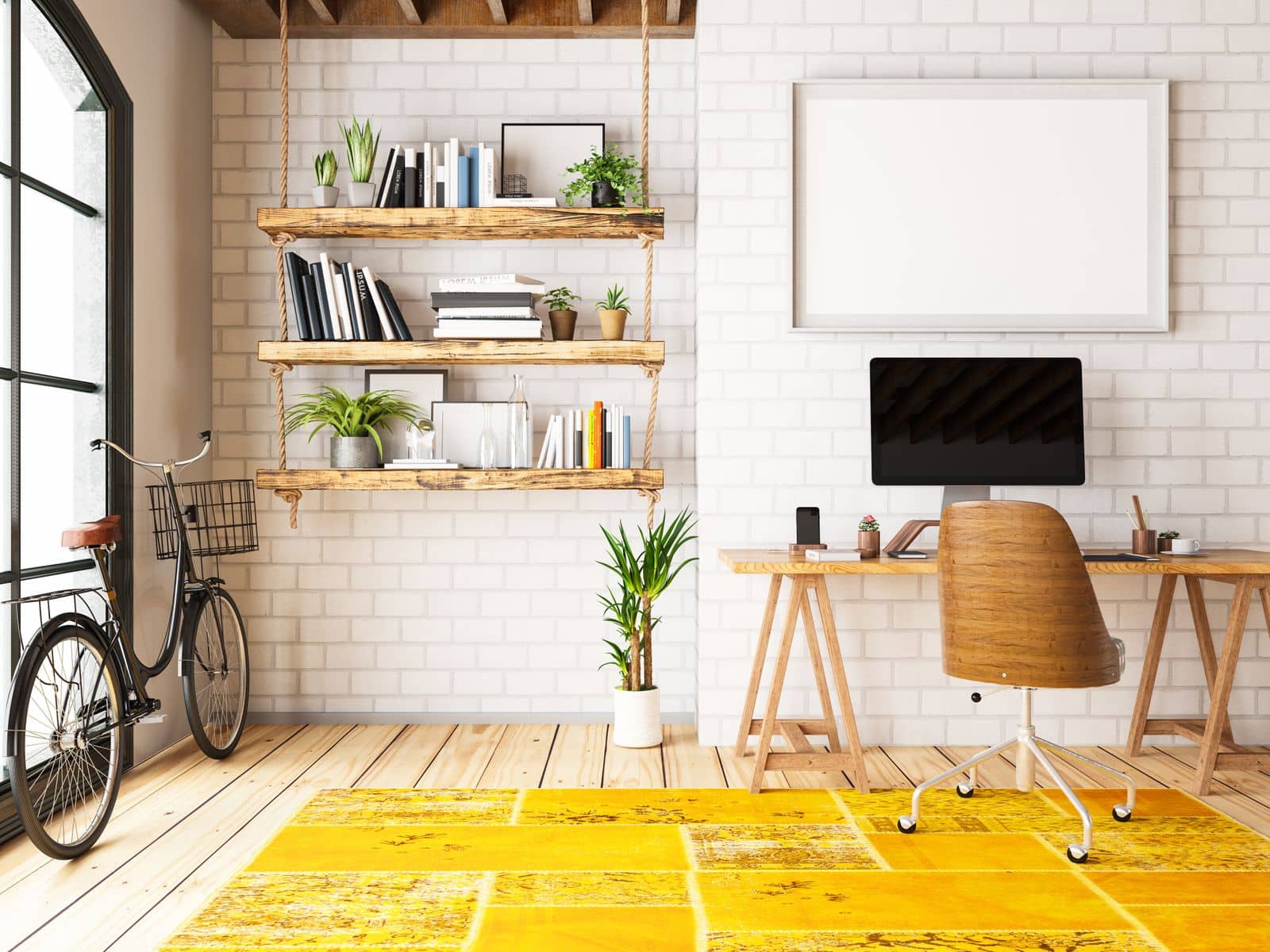 Add Some Green To Your Home Office
Adding some plants on your office shelf will make it look more soothing and calming, thereby reducing your stress while working. Some small plant pots also purify the air and probably absorb noise for you.
Just make sure that when you choose a plant for your office, check the light and watering levels. You surely don't want to see a brown, shriveled plant that can kill your mood while working.
These are our home office ideas for those who are in lockdown in the UK. We hope that these ideas can help you to set-up your perfect working-from-home station. Leave a comment if you have other ideas!